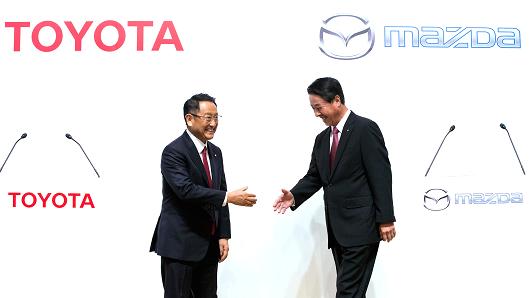 Tomohiro Ohsumi | Getty Images
Toyota Motor Co. President Akio Toyoda, left, and Mazda Motor Co. President and CEO Masamichi Kogai, right, shake hands during a photo session at a joint press conference on August 4, 2017 in Tokyo, Japan.
With the announcement of Toyota and Mazda planning to build a new final assembly plant in Huntsville, the state of Alabama is flexing its muscle and influence in the U.S. auto industry.
The plant, which will employ 4,000 workers and crank out up to 300,000 vehicles annually, is scheduled to open in 2021. Once that happens, Alabama could become the fourth biggest state in the U.S. when it comes to manufacturing new vehicles. It's currently tied for fifth, with Tennessee, in annual auto production, according to the Center for Automotive Research, which tracks vehicle manufacturing in the U.S.
"With this announcement, our world changes overnight," said Tommy Battle, the mayor of Huntsville. "It vaults Alabama to the top as an industry leader in producing the next generation of cars that will power our nation."
That may be a bit of an exaggeration.
Data from the Center for Automotive Research shows Michigan built 19 percent of the vehicles manufactured in the U.S. last year. That is more than double the production in Alabama.
So why is a state with 4.8 million people becoming more attractive for auto manufacturers and suppliers? It's all about location.
"This plant is going to be in the center of auto alley," said Thomas Klier, senior economist with the Federal Reserve Bank of Chicago. Klier has studied America's shifting auto manufacturing footprint and says Alabama benefits from being so close to other Toyota facilities.
"It's a very sensible location," he said. "Toyota has an engine plant in Huntsville and two other facilities nearby in Mississippi, so this makes sense."
"Our investment to establish a new vehicle assembly plant with Mazda builds on the strong success we have enjoyed in Alabama where we produce engines for the North American market," said Toyota President Akio Toyoda.
Meanwhile, Mazda will become the latest automaker to establish a final assembly plant in the U.S.
"We hope to work, learn and grow together with the people of Alabama and Huntsville," said Masamichi Kogai, president and CEO of Mazda Motor.
Mazda plans to build an SUV at the new facility as the Japanese automaker moves to improve a model line-up that has historically relied more on cars than utility vehicles. Last year, Mazda sold just under 300,000 vehicles in the U.S.