Alamo On Demand is available now online, with apps for iOS and Android coming soon.
Alamo Drafthouse Cinema
Grab the microwavable popcorn and dim the living-room lights.
Austin-based theater chain Alamo Drafthouse Cinema is bringing the big screen to your home by partnering with ScreenPlus and Vista Cinema to introduce a video-on-demand platform, Alamo On Demand.
"Alamo On Demand helps us to continue the conversation past the theatrical window and recommend movies we love to our community," said Tim League, founder and former CEO of Alamo Drafthouse Cinema. "And in these shuttered days and beyond, these rentals and purchases help support your neighborhood theater."
Alamo On Demand includes a library of recently released films, alongside curated cinema classics for rent or purchase.
Among the titles that will be available are Oscar winner "Parasite" and "Portrait of a Lady on Fire." It will premiere documentaries such as "Spaceship Earth" and "Kate Nash: Underestimate the Girl," which will include a livestream Q&A and performance by Kate Nash.
In the coming weeks, Alamo On Demand will add films from Sony Pictures Classics, and make available "Call Me By Your Name," "Pain and Glory" and "A Fantastic Woman."
Additional partners and titles include Lionsgate's films such as "Knives Out," "John Wick 3," and "'La La Land" and Magnolia Pictures' "RBG," "Skate Kitchen" and 'Raise Hell: The Life and Times of Molly Ivins." Plus Drafthouse Films' entire catalog.
What's different from other on-demand options?
Alamo is putting its own spin on the offering by including behind-the-scenes footage curated by its programming team. 
"Many of us learned about movies thanks to the staff picks at our local video stores. That's the spirit of what we're trying to do with Alamo On Demand," said Henri Mazza, Alamo Drafthouse vice president of content, sponsorship, and events. 
"Weird Wednesday" programmer Laird Jimenez will highlight forgotten genre film classics, while "Champagne Cinema" and "Afternoon Tea" creator Sarah Pitre will curate her collection of favorite films.
Evrim Ersoy, creative director of the annual film festival Fantastic Fest, will use the platform to champion past festival favorites as well as exclusive and never-before-seen-online content from Fantastic Fest veteran filmmakers.
Alamo Drafthouse Cinema's on-demand service includes a library of recently released entertainment, alongside curated cinema classics.
Alamo Drafthouse Cinema
Alamo will also package content for film-buffs looking to take a deeper cinematic dive. For example, later this year, Severin Films will launch the documentary "Enter the Clones of Bruce," about the hundreds of Bruce Lee imitator films that flooded the market after his death. 
Alamo On Demand will pair the documentary with a collection of the referenced films available for rental either solo or as a binge package to watch over 21 days.
Path forward for theaters
Alamo On Demand comes as a path forward for major cinemas like AMC Entertainment, Cinemark Holdings and IMAX remains uncertain. Tensions between Hollywood, theaters and streaming services remain contentious as studios and exhibitors are faced with new challenges during the pandemic. 
Interior of an Alamo Drafthouse Cinema theater.
Alamo Drafthouse
Alamo Drafthouse Cinema closed their doors on March 20 due to the coronavirus outbreak. The company has not set a date to reopen theaters and said its 41 locations will remain closed even as restrictions ease in certain states. Procedures and training are being developed so that theaters can reopen safely in the future.
The company is under new leadership as founder and former CEO Tim League recently announced his departure. Former Starbucks executive Shelli Taylor assumed the role on May 1.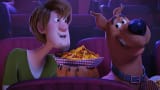 Why Hollywood is sticking with movie theaters and only a few films are heading to streaming