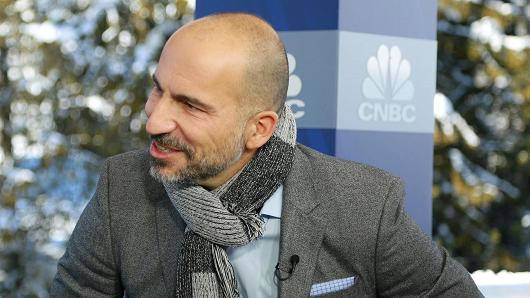 Adam Galica | CNBC
Dara Khosrowshahi, CEO of Uber speaking at the 2018 WEF in Davos, Switzerland on Jan. 23rd, 2018.
Alphabet reported the total book value of its equity investments for the first time on Monday, revealing that it has gained about $3 billion on its investments in Uber and other companies. It also showed that smart home division Nest is losing money on annual revenues that are below $1 billion.
Alphabet reported quarterly earnings after the bell on Monday, the first quarter of a new reporting format that gave investors new insights into the business.
The company made two key changes: The company disclosed "gain on equity securities," and moved Nest from its "Other Bets" segment to its "Google" segment.
The company showed a one-time gain on equity securities of $3.03 billion from its portfolio, which is probably mostly from its 2013 investment in Uber. At that time, the company put about $258 million into the company at a valuation of about $3.8 billion. Uber is now worth north of $60 billion.
It's especially interesting since Alphabet's self-driving car company, Waymo, just wrapped up a lawsuit against Uber this year.
Comparing recast financials for "Other Bets" with the original figures showed that Nest lost $168 million on revenue of $278 million in the fourth quarter of last year, spanning the critical holiday season. For the entire year, it lost $621 million on revenue of $726 million.
Investors have yearned for years to know more about Google's giant businesses, outside its core search advertising revenue stream. But despite owning mammoths like Android and YouTube, Alphabet has been slow to draw back the curtains as it has transitioned from one company (Google) to a conglomerate (Alphabet) over the past few years.