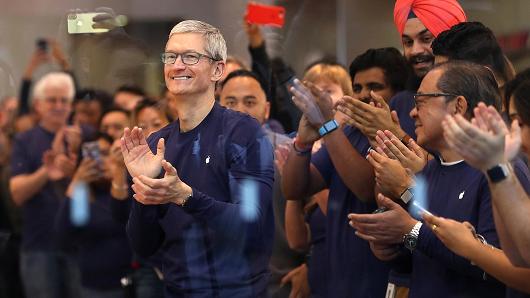 Getty Images
Apple CEO Tim Cook prepares to greet customers that will purchase a new iPhone X at an Apple Store on November 3, 2017 in Palo Alto, California.
Apple just released a security patch for iPhones and iPads — this time in response to the "Spectre" vulnerability that first made headlines last week.
The company issued an update for the "Meltdown" vulnerability last week, but you still need to update again to the latest iOS to avoid the numerous security gaps that affect every modern computer and smartphone chip.
Users with eligible devices should find the update in their phone's settings under General, then Software Update. The latest Apple update, iOS 11.2.2, is now available for the iPhone 5S and later and iPad Air and later.
The vulnerabilities could allow a hacker to steal information stored in the memory of a wide range of computer chips running on personal devices. That applies not just to computers and phones, but also the servers in data centers, including those used to run cloud computing services.
–CNBC's Matt Rosoff contributed to this post.