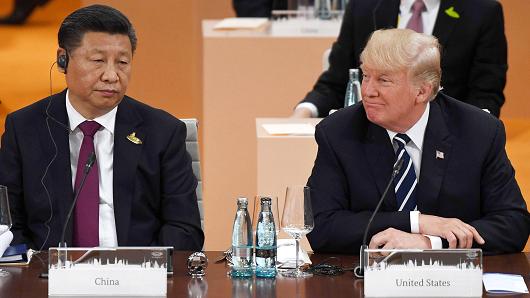 Patrik Stalloarz | AFP | Getty Images
China's President Xi Jinping (L) and US President Donald Trump attend a working session on the first day of the G20 summit in Hamburg, northern Germany, on July 7, 2017.
China, the United States' biggest buyer of sovereign bonds, could be slowing down or even halting its purchases, according to a report.
Bloomberg News reported Wednesday, citing people familiar with the matter, that officials in Beijing have recommended the Chinese government lowers — or even stops — its buying of U.S. sovereign debt.
The report also notes that Chinese officials think U.S. debt is becoming less attractive compared to other assets, adding that trade tensions between the two countries could provide a reason to slow down or halt the purchases.
"If China wasn't the largest foreign holder of US debt this wouldn't be a big deal. But, they are," said Peter Boockvar, chief investment officer at Bleakley Financial Group.
The news is worrying markets.
Treasury prices fell, boosting yields. The U.S. dollar also fell against most currencies and gold increased. Dow futures were down more than 110 points.
"I think the Chinese will contribute to the removal of liquidity from the U.S. bond market," said Michael Shaoul," chairman and CEO of Marketfield Asset Management. "That's not helpful to a bond market that's already under pressure."
A taper in Chinese purchases would come as the Federal Reserve unwinds the massive balance sheet it amassed following the financial crisis. The Fed is also expected to raise rates three times this year. In 2017, the central bank also hiked rates three times.
The U.S. 10-year yield rose to 2.59 percent on Wednesday, hitting levels not seen since last March. The dollar also fell against a basket of major currencies, trading down 0.5 percent at 91.96.
Click here for the full report.