Here are the most important things to know about Friday before you hit the door.
1. Consumer data
We'll get consumer spending and personal income economic data on Friday. Consumer spending data will come out at 8:30 a.m. from the Commerce Department. Economists polled by Dow Jones are expecting a 0.4% rise in personal spending in November, which rose 0.3% October.
Consumer spending, which accounts for more than two-thirds of U.S. economic activity, has been a bright spot of the economy this year.
Economists are expecting a 0.3% increase in personal income in November, up from October's flat reading.
2. Key inflation measure
The Bureau of Economic Analysis releases the latest core personal consumption expenditures (PCE) price index, a key inflation gauge on Friday. Economists polled by Dow Jones are expecting Core PCE rose 0.1% in November, the same reading as October.
The Fed tracks the core PCE price index for its 2.0% inflation target. The core PCE price index rose 1.7% on a year-on-year basis in October and has fallen short of its target this year.
3. Carnival and Carmax earnings
Cruise ship company Carnival will report fiscal fourth quarter earnings before the bell on Friday. Wells Fargo is expecting Carnival to report earnings per share of 50 cents, compared to the same quarter in 2018 when it earned 70 cents per share. Carnival had a rough 2019 because of factors like Hurricane Dorian and a Cuban travel ban, the firm noted.
Carnival will also release its full year 2020 outlook. Wells Fargo estimates full year earnings of $3.96 per share, compared to last year's $4.26 per share.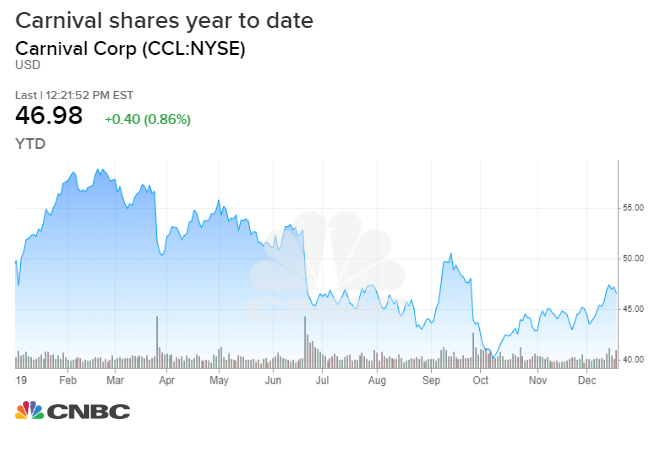 Shares of Carnival are down nearly 5% this year.
The largest used car retailer in the U.S., Carmax will also report third quarter earnings Friday. The Buckingham Research Group is expecting Carmax to report earnings per share of $1.16, compared to the $1.09 earned in the same quarter last year.
The firm noted last year's 1.2% drop in same-store sales will be an easy bar to clear and "new car transaction prices continue to set new highs," Buckingham analyst Glenn Chin said in a note to clients.
Shares of Carmax have rallied more than 57% this year.
Major events (all times ET):
8:30 a.m. Q3 GDP (third reading)
8:30 a.m. GDP prices
10:00 a.m. Personal income
10:00 a.m. Consumer spending
10:00 a.m. Core PCE
Major earnings:
Carnival (before the bell)
Carmax (before the bell)
BlackBerry (before the bell)
Winnebago (before the bell)
—with reporting from CNBC's Michael Bloom.