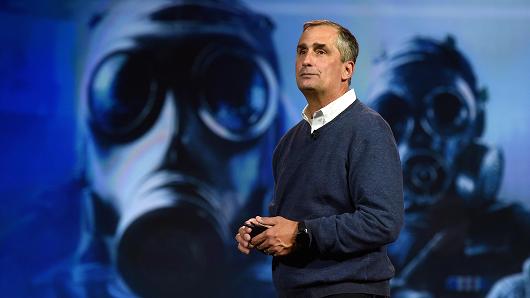 Getty Images
Intel Corp. CEO Brian Krzanich delivers a keynote address at CES 2016 at The Venetian Las Vegas on January 5, 2015 in Las Vegas, Nevada.
Intel shares fell again on Thursday morning amid revelations surrounding widespread security exploits that could affect almost every type of electronic device.
Although the vulnerabilities, called Meltdown and Spectre, affected leading processors in many devices, Intel is bearing most of the fallout after rival AMD distanced itself from the bulk of the issues. Intel shares were down nearly 5 percent, around $43 apiece, after posting a 3 percent decline on Wednesday.
Intel CEO Brian Krzanich told CNBC on Wednesday evening that his company had been working with researchers at Google for a couple of months on fixing a security exploit. The company said the exploit, which was first leaked to industry bloggers at The Register, has likely never been used by any bad actors.
The vulnerabilities could theoretically allow a hacker to steal information stored in the memory of chips themselves: One, dubbed Meltdown, is known to affect Intel chips, while another, Spectre, could affect chips from many vendors, including Intel as well as AMD and Arm. Microsoft, Amazon, and Google all said they are rolling out fixes for the issues.
Additionally, Intel's CEO sold shares during the period that the exploit was being addressed, according to a Dec. 1 SEC filing, although some of those stock sales were planned in advance, as part of an October 30 agreement. According to those filings, Krzanich owned 250,000 shares at the end of the transaction, the minimum level required by Intel's proxy statement.
Some on Wall Street think that Intel's loss could mean gains for rivals: AMD and Nvidia could use it as a "marketing edge," according to Mizuho Securities analyst Vijay Rakesh.