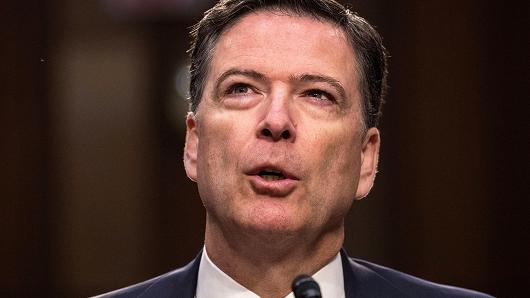 Getty Images
Former FBI Director James Comey testifies before the Senate Intelligence Committee in the Hart Senate Office Building on Capitol Hill June 8, 2017, in Washington.
The FBI on Wednesday released internal memos circulated to its staff around the time of former Director James Comey's abrupt firing.
The documents were released through an official FBI records Twitter account.
FBI tweet
The first page is a brief statement from Attorney General Jeff Sessions from May 9, the day Comey was dismissed.
In the statement, Sessions said President Donald Trump "has exercised his lawful authority to remove James B. Comey, Jr., as the Director of the Federal Bureau of Investigation." He also named Deputy Director Andrew McCabe as acting director.
The second document is a letter from McCabe to FBI staff, sent on May 12 after what he described as a "tough week" of adjusting to Comey's absence.
"We all miss him. And I know that he misses us," McCabe wrote.
He called on the staff to stay focused on the mission of the agency, despite the recent upheaval.
"So please — hang in there. As men and women of the FBI, we are at our best when times are tough. Please stay focused on the mission, keep doing great work, be good to each other and we will get through this together," he said.