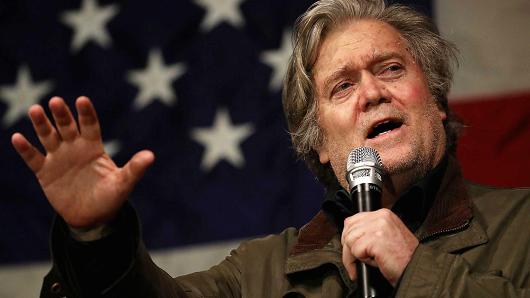 Getty Images
Steve Bannon speaks before introducing Republican Senatorial candidate Roy Moore during a campaign event at Oak Hollow Farm on December 5, 2017 in Fairhope, Alabama.
Wealthy GOP donor Rebekah Mercer, who is a Breitbart board member, last week distanced herself from Bannon and said she would no longer fund his initiatives. She had pledged support for Trump "and the platform upon which he was elected." Bannon helped to drive Trump's nationalist messaging in the final months of the 2016 election, contributing to the then-candidate's harsh criticisms of free trade and China. He then was one of Trump's top White House advisors before he was pushed out in August.
When he returned to Breitbart from the White House, Bannon pledged to use the outlet as a tool against so-called establishment Republican figures and enemies of Trump's agenda. He planned to champion numerous upstart GOP candidates. He backed Republican ex-Judge Roy Moore in Alabama's Republican Senate primary over then-Sen. Luther Strange last year.
Moore beat Strange, but facing allegations of sexual abuse against teenagers, lost to Democrat Doug Jones in the deep-red state's special election in December.
Excerpts of a tell-all book, "Fire and Fury: Inside the Trump White House," were released last week and featured numerous quotes attributed to Bannon. Among other statements, he called a June 2016 meeting at Trump Tower that included Donald Trump Jr., former Trump campaign chairman Paul Manafort and a Russian lawyer "treasonous," and said special counsel Robert Mueller's Russia investigation would "crack Don Junior like an egg." He also called Ivanka Trump "dumb as a brick."
Those remarks prompted the president to declare that Bannon had "lost his mind."
In apologizing Sunday, Bannon said media reports misinterpreted his comment about the Donald Trump Jr. He instead meant it about Manafort, he said.
The book's author, Michael Wolff, says he has tapes of conversations with Bannon and other individuals quoted in the project.