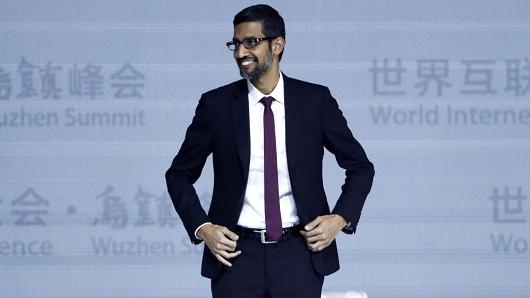 Du Yang | VCG | Getty Images
Sundar Pichai speaks at the 4th World Internet Conference on December 3, 2017 in Wuzhen, China.
Alphabet's Google has led a $120 million investment in Chinese live-stream mobile
game platform Chushou, the two companies said on Friday, as the U.S. firm eyes new inroads to China where its search engine is blocked.
Founded in 2015, Chushou is an online e-sports platform where users can live stream their mobile phone games. The service has roughly 8 million streamers and 250,000 live streams
a day, said the companies in a statement. Google will help the Chinese firm expand its services to target more overseas viewers, it said.
Live stream gaming platforms are a popular form of e-sports in China, part of a growing industry that involves competitive game play viewed by spectators. Google's YouTube launched a specialized service for live stream gamers in 2015, capturing a large chunk of the global market.
The companies did not reveal the size of Google's stake or the valuation of Chushou after the round.
The investment is Google's second-ever in a Chinese start-up, as the search engine giant looks for new avenues into the Chinese market where its flagship search engine has been blocked by censorship authorities since 2012.
The U.S. firm took a minority stake in Beijing-based artificial intelligence (AI) start-up Mobvoi in 2015 as part of a $75 million fundraising round.