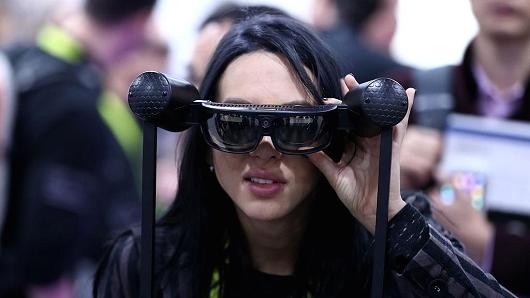 Anadolu Agency | Getty
LAS VEGAS, USA – JANUARY 08 : A woman tries virtual reality and wearable technology product during the 2017 Consumer Electronics Show in Las Vegas, Nevada, USA on January 08, 2017. (Photo by Bilgin S. Sasmaz/Anadolu Agency/Getty Images)
This year's CES, formerly known as the Consumer Electronics Show, kicks off next week in Las Vegas. In previous years, it's been home to major announcements, including new computers, TVs, smart home appliances, autonomous car technology and more.

This year might change a bit compared with last year, according to at least one expert interviewed by CNBC.
CES 2018 "is a 'fulfillment' one where we won't see as much 'vision' but more companies delivering on the promises made last year," Patrick Moorhead, president and principal analyst at Moor Insights & Strategy told CNBC.
"We will see improvements and refinements versus big-picture vision. We will see home automation work better, be more reliable and support more ecosystems," he said.
Here's what you can expect from the show.