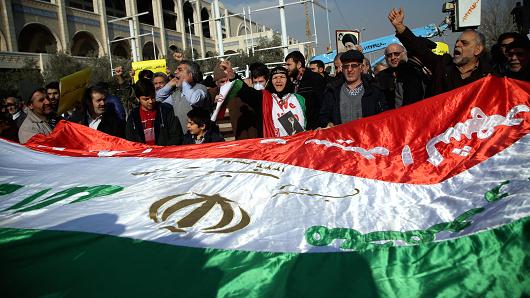 Fatemeh Bahrami | Anadolu Agency | Getty Images
Iranians hold an Iranian flag during a protest after performing the Friday Prayer at Imam Khomeini Mosque following US' statement about backing the anti-government protests in Tehran, Iran on January 05, 2018.
Thousands of government supporters staged rallies in Iran for a fourth day on Saturday, in a backlash against widespread protests that the clerical establishment has blamed on the country's enemies.
Saturday's show of support came a day after Iran's foreign minister said a United Nations Security Council meeting called by the United States to discuss the protests had proved a "blunder" by the administration of U.S. President Donald Trump.
State television showed rallies in cities including Amol, Semnan and Shadegan waving Iranian flags and chanting "Death to America", "Death to Israel" and "Death to Britain".
More than a week of unrest has seen 22 people die and more than 1,000 arrested, according to Iranian officials, in the biggest anti-government protests for nearly a decade.
Unrest spread to more than 80 cities and rural towns as thousands of young and working class Iranians voiced anger at graft, unemployment and a deepening gap between rich and poor.
Residents contacted by Reuters in various cities on Friday said the protests had shown sign of abating, after the government intensified a crackdown on the protesters by dispatching Revolutionary Guards forces to several provinces.