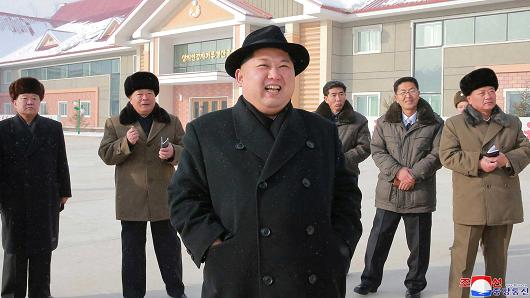 KCNA | Reuters
North Korea's leader Kim Jong Un is seen during the inspection of a potato flour factory in this undated photo released by North Korea's Korean Central News Agency (KCNA) in Pyongyang December 6, 2017.
South Korean President Moon Jae-In's administration on Tuesday offered high-level talks to its northern neighbor even as Pyongyang and Washington began the New Year with fresh hostile rhetoric.
And on Wednesday, the pariah state reopened its cross-border communications channel with its southern neighbor for the first time in almost two years. President Donald Trump has since claimed it was his tough rhetoric against North Korean dictator Kim Jong Un that resulted in fresh dialogue.
Expectations for inter-Korean dialogue rose after North Korean leader Kim Jong Un said on Monday that he was open to sending a delegation to the upcoming Winter Olympics in the South Korean city of PyeongChang.