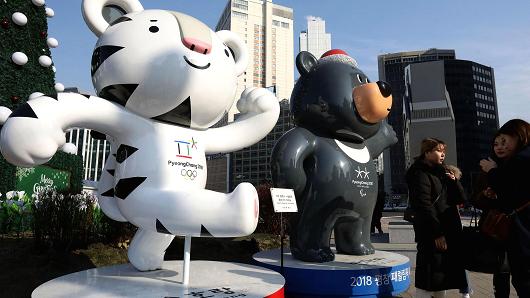 Getty Images
People walk in front of mascots of the 2018 PyeongChang Winter Olympic and Paralympic Games Soohorang (L) and Bandabi (R) on January 5, 2018 in Seoul, South Korea.
We're just one month away from the Olympic opening ceremonies in Pyeongchang, South Korea. And for a lot of reasons, ticket sales are falling short of the pace they set at past games.
Two weeks ago the Pyeongchang organizing committee reported only 61 percent of all tickets have been sold. That's 655,000 out of 1.07 million total tickets. For popular sports such as figure skating and ice hockey, those numbers were even lower, coming in under 60 percent.
Tensions between North Korea and South Korea have dominated the news recently. But many locals speaking to CNBC explained that within South Korea citizens have grown accustomed to decades of such risks. Some suggested there were more concerns about safety at the 1988 Summer Games in Seoul.
In recent days the two countries reinstated a hotline phone to ease tensions, while the U.S. and South Korea said they would postpone military exercises until after the games end.