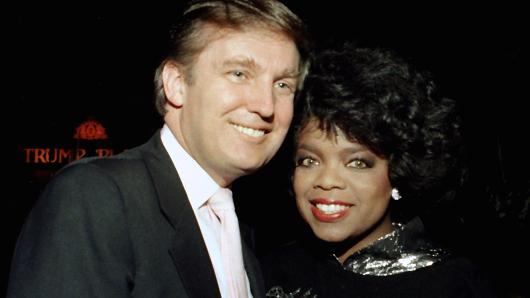 Jeffrey Asher | Getty Images
Businessman Donald Trump and Oprah Winfrey at Tyson vs Holmes Convention Hall in Atlantic City, New Jersey January 22 1988.
Media icon Oprah Winfrey would soundly defeat President Donald Trump if the 2020 presidential election were held today, according to a new survey released Wednesday from Rasmussen Reports.
Forty-eight percent of likely U.S. voters said they would vote for Winfrey in a contest between the two candidates. Trump would earn just 38 percent of the vote. A relatively significant 14 percent of the respondents were undecided, however.
Winfrey enjoys more support among Democrats than Trump does from Republicans: 76 percent of Democrats said they support Winfrey, compared with 66 percent of Republicans who support Trump.
The national political conversation turned to Winfrey after she gave a rousing and decidedly political speech at the 75th annual Golden Globe awards on Sunday night. Shortly after, reports surfaced that Winfrey was "actively thinking" about running for president in 2020. She has repeatedly knocked down suggestions that she might run. Her close friend, "CBS This Morning" host Gayle King, said Tuesday that Winfrey was "intrigued" by the idea of running, but likely hadn't changed her mind.
Stelter tweet
Twelve percent of voters from both major parties were undecided about which candidate they would vote for, and 19 percent of independents said the same.
Rasmussen Reports, which is widely seen as having a polling model more favorable to conservatives, surveyed 1,000 likely U.S. voters from Jan. 8 to 9. The study had a 3 percent margin of error.
Trump has occasionally touted his approval rating from Rasmussen's daily presidential tracking poll, which has him at 44 percent approval Wednesday. That is four points higher than the Real Clear Politics average.