Getty Images
A banner for Pandora Media, the online-radio company, hangs in front of the New York Stock Exchange.
Shares of Pandora fell more than 4 percent in the premarket Monday after Morgan Stanley downgraded the stock and raised concern about the company's revenue growth for 2018.
"Growing ad revenue in '18 is no longer a given as Pandora faces engagement and monetization challenges," said analyst Benjamin Swinburne, who lowered his rating on the streaming service to equal weight from overweight.
"We thought Pandora could potentially reach 10% advertising growth in '18," he said in a Monday note. "However, we now expect 2017 to show a nearly 15% decline in listening hours, an over 5% decline in ad supported monthly active users, and slower growth in advertising ARPU. This leads us to lower our outlook for '18 ad growth, now forecasting flat to up modestly."
Swinburne added that a deceleration of ad revenue growth "meaningfully reduces the company's ability to drive any operating leverage."
Pandora shares were up more than 7 percent a week into the new year, but shed more than 60 percent in 2017.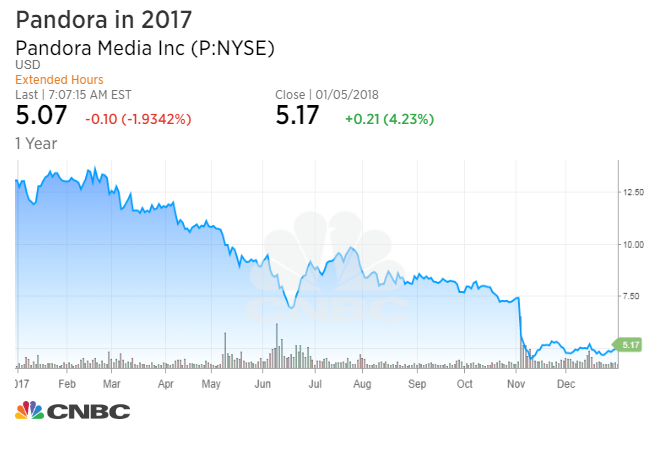 Swinburne also cut his price target to $6 a share from $12. Pandora shares closed at $5.17 a share on Friday.
—CNBC's Michael Bloom contributed to this report.