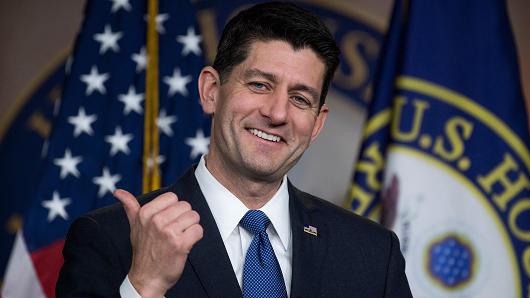 Tom Williams | CQ Roll Call | Getty Images
Speaker Paul Ryan, R-Wis., conducts his weekly news conference in the Capitol Visitor Center on December 14, 2017.
Two groups linked to House Speaker Paul Ryan took in $66 million last year ahead of a likely bitter battle for control of the chamber in November.
The Congressional Leadership Fund super PAC and its sister organization, American Action Network, shattered their previous fundraising marks for a non-election year, CLF said Tuesday. CLF took in $26 million in 2017, compared with $497,000 in 2015, the previous year without an election.
The haul comes ahead of 2018 midterm elections in which majority House Republicans hope to limit potential losses partly driven by President Donald Trump's low approval rating. Democrats have led Republicans by more than 10 points in an average of recent ballots which ask voters to choose between a generic member of both parties in 2018, according to RealClearPolitics.
The party in control of the White House — in this case the GOP — has often struggled in its first congressional midterm election following a presidential race.
"CLF's record-setting off-year fundraising is a testament to Speaker Ryan's leadership and House Republicans' conservative agenda," the organizations' executive director Corry Bliss said in a statement. "Knowing history is against us, CLF's field program has laid the groundwork to protect the Republican House majority well ahead of Election Day, opening 27 field offices and making over 5 million voter contacts to date."
Politico first reported the groups' fundraising haul.
Big-money donors in recent days have raised the stakes for November's elections, which will help to determine how much of the GOP's sprawling agenda it can pass while Trump is in office. On Monday, billionaire Democratic activist Tom Steyer announced he would put $30 million into a group designed to boost young voter turnout in key races in 10 states, largely targeting seats controlled by Republicans.
Steyer has already put a reported $20 million of his own money into an effort calling on Democrats to impeach Trump if they win the House majority.
On Monday night, the Congressional Leadership Fund disclosed more than $100,000 in spending to set up a "ground game" in Pennsylvania's 18th Congressional District. A special election there in March will determine who replaces Tim Murphy, who resigned from Congress in October.
Republicans hold a 239 to 193 seat advantage in the House. Three seats are empty after member resignations.
In the coming months, Republicans hope to build public support for their tax overhaul that recently went into law. Most recent polls have shown the signature GOP achievement for Trump's first year in office to be broadly unpopular.