Shares of PayPal ticked 1 percent higher before the bell Tuesday after research firm Cowen decided to jump on the payments platform's bandwagon.
Analyst George Mihalos upgraded the stock to outperform from market perform and hiked his price target on the shares to $88 from $67. The new price target represents 11 percent upside.
He also recognized he's "come to the party well after the candles have been blown out."
PayPal shares skyrocketed 86.5 percent in 2017 and are up 7.4 percent already this year. The stock easily outperformed the S&P 500 last year — which rose 19.4 percent in 2017 — and the S&P technology sector, which climbed nearly 37 percent.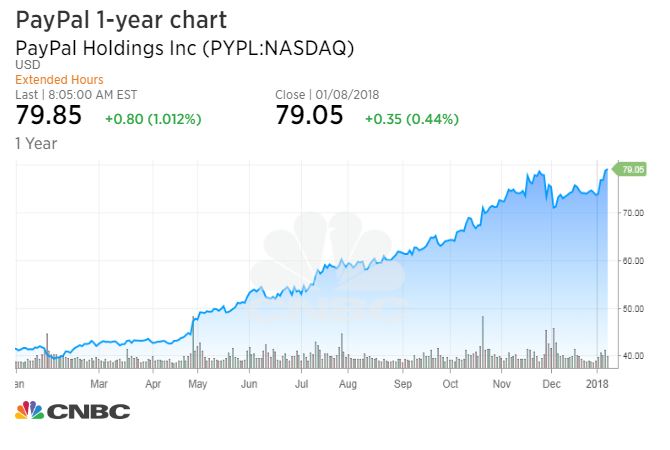 "While admittedly the shares of PYPL are far from a bargain, we believe most of the bear theses for PYPL have not and will not play out – including margin compression, eBay renewal concerns and take -rate collapse – while the company's growth trajectory remains among the most compelling in the Payments space," Mihalos said in a note to clients.