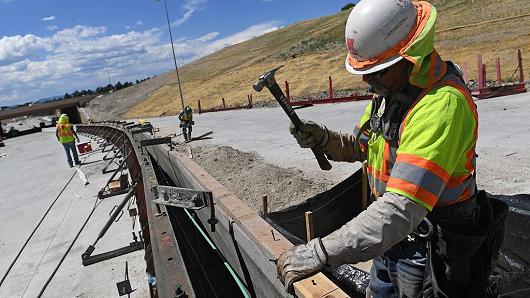 Helen H. Richardson | The Denver Post | Getty lmages
Sergio Hernandez works on the median just east of the new I-25 interchange in Castle Rock, Colorado.
Now that the Republican tax package has been signed into law, Trump is planning to move forward with a massive infrastructure program. The details could be released before the president's State of the Union address, White House officials said last month.
Delaney insists his proposal is an honest attempt at a bipartisan compromise, even though Republicans just passed a 21 percent corporate tax rate as a part of their tax reform package.
"I think every Democrat would support it and I think a lot of Republicans would support it," he said.
His reasoning focuses on the fact that business groups have lobbied for years to lower the corporate rate to 25 percent from 35 percent.
"If you brought it to 23 percent you would still be way ahead of where the business community wanted it," Delaney contended.
However, he's open to other ways of coming up with the $200 billion in funding. Another possibility is ending the so-called carried interest loophole that benefits managers of hedge funds and private equity funds, which is kept in the GOP law, he said.
Delaney has been pushing an infrastructure plan in Congress, first introducing a bill in 2013. He reintroduced the Partnership to Build America Act in the last two congresses, most recently in March 2017.