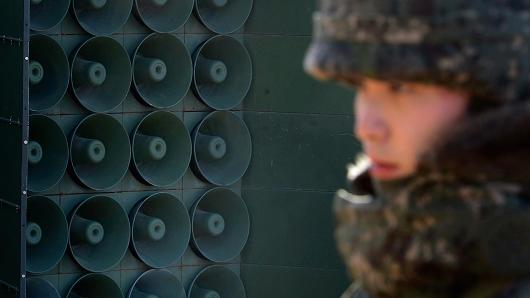 Korea Pool-Donga Daily via Getty Images
A South Korean soldier stands next to the loudspeakers near the border area between South Korea and North Korea on January 8, 2016 in Yeoncheon, South Korea.
South Korea has stopped blaring music and other propaganda via loudspeakers along the border with North Korea, in an apparent gesture of goodwill ahead of top-level talks later this week.
The South Korean defense ministry announced the high-decibel broadcasts it routinely played across the heavily fortified demilitarized zone had fallen silent at midnight on Sunday.
"We hope this decision will lead both Koreas to stop mutual criticism and propaganda against each other and also contribute in creating peace and a new beginning," Seoul's defense ministry said in a statement Monday.
South Korea said its dozens of speakers, which can be heard by North Korean troops and civilians in the surrounding area, would all be turned off to try to help create a better atmosphere for Friday's talks.
It is the first time in more than two years that Seoul's propaganda offensive has stopped. North Korea also has its own system of speakers along the border between the two countries, which tends to play reports critical of its neighbor and their allies. It is not yet known whether Pyongyang will also silence its loudspeakers.