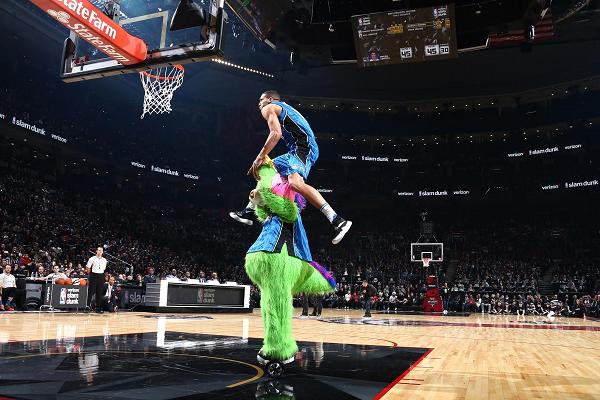 Nathaniel S. Butler | Getty Images
Aaron Gordon of the Orlando Magic dunks over Stuff the Magic Dragon, the mascot of the Orlando Magic, during the Verizon Slam Dunk Contest in 2016
It's the same for the Orlando Magic's Aaron Gordon, a player Betchart has trained since Gordon was a young teen. During the 2016 NBA Dunk contest, he jumped over the Orlando mascot, Stuff the Magic Dragon, put the ball through his legs, and jammed it home. Though he left without a trophy, he won the crowd and was decidedly dubbed "the people's champ."
"Gordon could never replicate the energy of how high he could jump during that first dunk contest," says Betchart. "That was provided by the fans. You can't get that high in practice. It's impossible."
This doesn't just apply to NBA superstars and Olympic athletes. It's relevant to any high-stakes situation. In fact, as the director of mental training at Lucid Performance, Betchart works directly with professionals in various other fields, like surgeons, salespeople and lawyers.
"What we've found is this is much larger than sports," he says. "This is about everyone in life."
Like this story? Like CNBC Make It on Facebook.
Don't Miss: Mental coach of 3 top NBA draft picks shares 7 ways you can thrive under pressure
Video by Jonathan Fazio