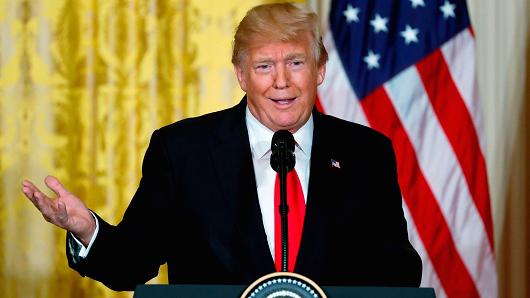 Jonathan Ernst | Reuters
President Donald Trump addresses a joint news conference with Norwegian Prime Minister Erna Solberg in the East Room of the White House in Washington, U.S., January 10, 2018.
A judge's decision Tuesday night to temporarily block Trump's move to end DACA complicates that timeline.
A bipartisan working group of senators met Wednesday afternoon to try to hash out an agreement on legislation. Republicans want increased border security measures in exchange for DACA protections.
Earlier in the day, working group member Sen. Jeff Flake, R-Ariz., told reporters that the senators are "very close" to having legislation they can release.
On Wednesday afternoon, several House Republicans released an immigration bill that they called a "starting point." It would put DACA into law but also fund the border wall and end so-called chain migration. The legislation takes a more conservative stance than a Senate bill likely would.
Democratic leaders want to tie DACA to a must-pass government spending bill. Congress faces a Jan. 19 deadline to avert a government shutdown.
On Tuesday, Senate Majority Leader Mitch McConnell said he wanted to pass the two pieces of legislation separately.
Passing DACA protections into law has broad bipartisan support, though disagreement remains over what measures should go with it. Many major American companies have also pushed for Congress to protect the undocumented immigrants.