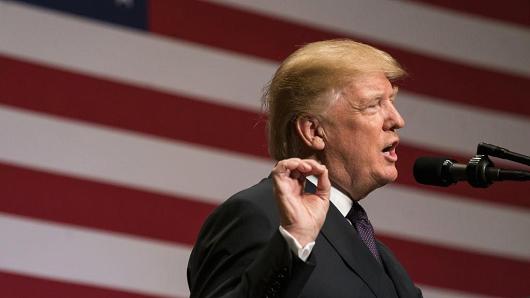 Bloomberg | Getty Images
President Donald Trump at a national security strategy event on December 18, 2017 in Washington, D.C.
President Donald Trump claimed on Thursday that talks between North and South Korea likely would not have occurred without his tough rhetoric against Pyongyang.
Lambasting "failed 'experts'" discussing the matter as "fools," Trump questioned whether the two nations would have engaged in conversation had he not been "firm, strong and willing to commit our total 'might' against the North." The president also welcomed the development as a "good thing."
Tweet
North Korea reopened its cross-border communications channel on Wednesday with South Korea for the first time in almost two years. The move signaled a vital diplomatic breakthrough as geopolitical tension has risen over North Korea's nuclear capability.
Trump ignited concern on Tuesday when he said that the U.S. had a "much bigger" and "more powerful" nuclear "button" than North Korean leader Kim Jong Un's.
The president said sanctions were "beginning to have a big impact" on Pyongyang. The U.S. and its allies have placed increasing economic pressure on North Korea to inhibit its development of its arsenal of nuclear weapons and ballistics missiles.