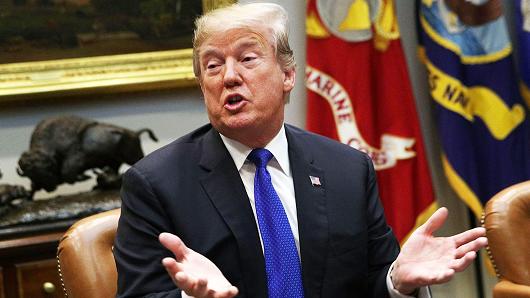 Getty Images
President Donald Trump speaks during a meeting in the Roosevelt Room of the White House January 4, 2018 in Washington, DC.
With the Dow breaking 25,000 for the first time, President Donald Trump is taking credit and hoping for more gains.
"I guess our new number is 30,000," Trump told reporters Thursday. "There were those that said we wouldn't break 25,000 by the end of the eighth year [of my administration], and we're in the 11th month."
The 30-stock index reached the milestone after the release of strong jobs data. The U.S. private sector added 250,000 jobs in December, ADP and Moody's Analytics reported before the opening bell on Thursday. Economists polled by Reuters expected a gain of 190,000.
Equities have risen sharply since Trump was elected in November 2016. In that time period, the Dow has shot up 36 percent, while the S&P 500 is up 27 percent.
Trump has touted the market's surge throughout his presidency, unlike his predecessors. Since his inauguration on Jan. 20, Trump has tweeted about the stock market 52 times.
On Thursday, he tweeted: "Dow just crashes through 25,000. Congrats! Big cuts in unnecessary regulations continuing."
Tweet
"What that means is that, whenever you see that number go up on Wall Street, it means jobs, it means success, it means 401(k)s are flourishing," Trump told reporters.