Those areas also lack the vast infrastructure that has emerged around the U.S. offshore drilling hub in the central Gulf of Mexico.
"You have to put in a huge amount of infrastructure, and the return of investment on such infrastructure is not there. The price of oil is too low," said John McNabb, former chairman and CEO of Willbros, one of the largest energy infrastructure contractors in the world.
At the same time, opportunities in U.S. onshore shale fields, where production can be started up and shut down quickly, is competing for drillers' dollars, said McNabb, who also served on Trump's council of corporate advisers.
That kind of production is attractive in today's unpredictable oil market, where U.S. crude fell from more than $100 a barrel in 2014 to a low of $26 in 2016 before bouncing around the $40 to $60 range last year.
U.S. outer continental shelf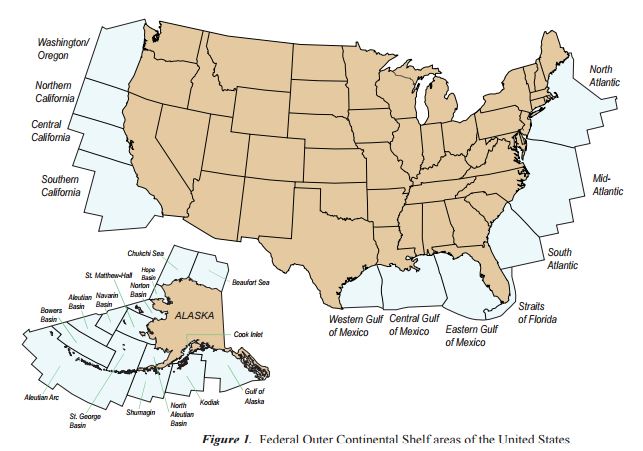 Even within the Gulf of Mexico, there is limited infrastructure in the western region, said Imran Khan, who leads Wood Mackenzie's commercial valuation team for oil and gas projects in the Gulf. In the eastern waters straddling Florida, much of which is under a drilling moratorium through 2022, little exploratory drilling has been done and much of the seismic data is old, he added.
"In the current commodity pricing environment, I don't see a lot of appetite on laying down new infrastructure," he told CNBC.
There are significant reserves of oil and gas in the Atlantic and Pacific oceans, but current measures of technically recoverable resources in the Gulf of Mexico are far larger, according to figures from the Bureau of Ocean Energy Management, the arm of the Interior Department that oversees leasing in the U.S. outer continental shelf.