Patrick T. Fallon | Bloomberg | Getty Images
Kevin Plank, founder and chief executive officer of Under Armour Inc., speaks during the 2017 Consumer Electronics Show (CES) in Las Vegas, Nevada, U.S., on Friday, Jan. 6, 2017.
Shares of Under Armour fell more than 4 percent in premarket trading Tuesday after one Wall Street firm downgraded the company to negative.
Despite a 30 percent rally in the past eight weeks, the athletic clothing maker will reverse course and lose all of those gains over the next year, according to Susquehanna Financial Group.
"Sell Under Armour. The Under Armour brand remains at risk," warned analyst Sam Poser in a note to clients. "Given poor brand distribution decisions, we believe Under Armour risks are becoming more like Reebok than Nike … there is no fundamental recovery in sight."
Highlighting "poor brand management," Poser compared Under Armour to footwear company Reebok, saying that if it isn't careful, the clothing company could shed market cap if it continues to advertise with lesser retailers. In the analyst's view, advertising with "moderate" retailers – an industry term to reflect pricing point – is causing "better" retailers like Dick's and Hibbett to plan reduce their Under Armour business.
"Better sports retailers are the heart and soul of Under Armour's heritage and long-term profitable growth opportunities," wrote Poser. "The opening of distribution to Kohl's, DSW, and Famous did change the perception of Under Armour, and not for the better."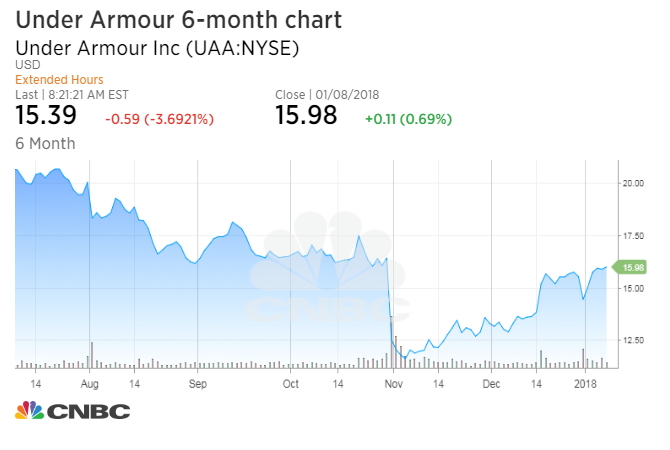 Under Armour did not immediately respond to CNBC's request for comment.
Poser's $11 price target represents 31 percent downside from Monday's close over the next 12 months. The company is down 48 percent over the past 12 months, though up 17 percent over the last month.
To be sure, the debate around Under Armour's future – and pricing point – is heated, with some analysts more positive on the company's future. Stifel analyst Jim Duffy upgraded shares to buy in December, lauding the company's cost saving initiatives and improved performance.
"We believe the underlying brand equity is not yet permanently damaged," wrote Duffy in December. "The U.S. apparel business is at a near-term glass ceiling and the footwear business needs a reboot but, big picture, international and footwear growth potential remain compelling."
—CNBC's Michael Bloom contributed to this report.