Alexander Spatari | Moment | Getty Images
With the fate of the Biden administration's sweeping student loan forgiveness plan uncertain and headed to the Supreme Court, borrowers in New York state may have another option for relief.
The 'Get On Your Feet' Loan Forgiveness Program, rolled out in 2015, is meant to "invest in recent college graduates with student loan debt who opted to invest their futures in New York," said Angela Liotta, public information officer and director of communications at the New York State Higher Education Services Corp.
Under the program, certain residents of the state may be eligible for student loan forgiveness on up to 24 months of payments.
More from Personal Finance:
Biden cancels $10,000 in federal student loan debt
Timeline: Key events on the path to student loan forgiveness
How the student-loan forgiveness plan works, and when to apply
There are around 2.5 million people with federal student loan debt in New York, who collectively owe almost $100 billion, according to higher education expert Mark Kantrowitz.
Here's what borrowers need to know about the program.
You must live and have attended school in New York
An income-driven repayment plan is required
Eligibility is limited by income, loan type
The program excludes those who have an adjusted gross income of more than $50,000 a year.
Not all student loans qualify for the state relief.
Under the Direct loan program, subsidized and unsubsidized loans are eligible. Federal Family Education Loans (FFEL) may not qualify, although you might be able to consolidate these loans into the Direct program. Private student loans are ineligible.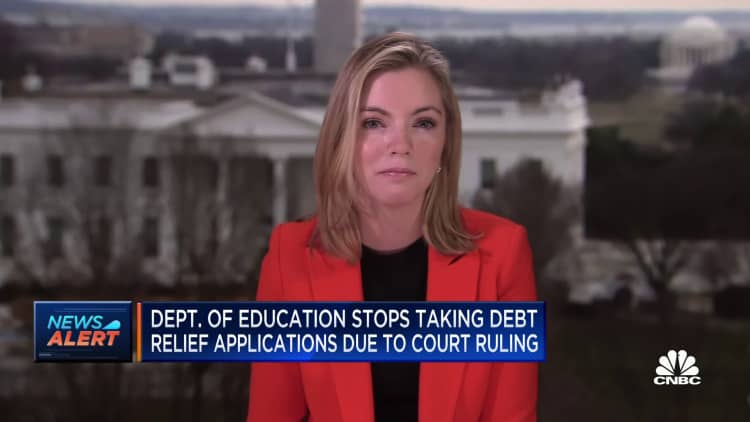 Meanwhile, loans taken our during graduate school are also typically excluded from the state forgiveness, and to qualify for the program you need to have no more than a bachelor's degree at the time of applying.
Unsure of what kind of student loans you hold? You can check on Studentaid.gov.
Up to 24 months of student loan payments available
Under the Get On Your Feet Loan Forgiveness Program, New York state may cover your full student loan bill for up to 24 months under a qualifying income-driven repayment plan.
The state makes the payments directly to your student loan servicer.
The loan forgiveness could have tax implications. Recipients will get a 1099 form from the state, and are encouraged to contact a tax professional, the IRS or the New York State Department of Taxation and Finance for more information.