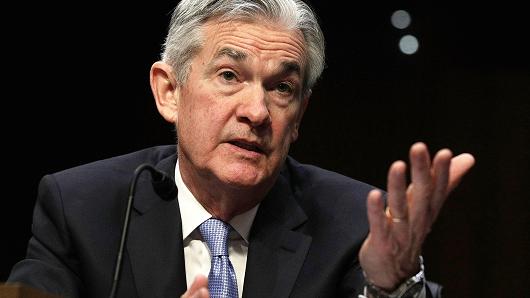 Getty Images
Chairman of the Federal Reserve nominee Jerome Powell testifies during his confirmation hearing before the Senate Banking, Housing and Urban Affairs Committee November 28, 2017 on Capitol Hill in Washington, DC.
The two potential disruptors to the bull market, according to Orlando, are a Federal Reserve in transition and a potential Democratic wave building toward the 2018 midterm elections.
The first catalyst is the shakeup in leadership at the Fed, when President Donald Trump's new chair pick, Jerome Powell, assumes the seat on Feb. 3. Powell takes over from a historically dovish Janet Yellen, who has overseen the steady return to normalized monetary policy over the past two years, after the 2008 crisis saw the central bank pump trillions of dollars into the economy.
"How does this leadership transition go?" Orlando asked rhetorically. "What will Chairman Powell's transition be in terms of maintaining the same dovish stance [on] quantitative tightening and increases in the funds rate?"
Under Powell, a sudden rise in inflation or too much stimulus from tax reform could force the Fed's hand in raising rates at a pace far quicker than markets anticipate.
Orlando also pointed to the potential for Democrats to assume the majority in the House and Senate this year, which may put the brakes on Trump's business-friendly agenda. The unraveling of business regulation and cuts to the corporate tax rate provided much of the fuel to markets over the past twelve months.
This year, Orlando's prediction for the S&P 500 to end 2018 at 3,000 implies a roughly 12 percent increase from its 2017 close. That's a healthy gain for any normal year of a bull market, but nearly half the gains seen last year.
At least for now, U.S. equities are well on track to continue last year's trends. So far this year, the Dow has cleared its never-before-seen 25,000 level and the S&P 500 has surpassed 2,700. This as the S&P has gone 293 days without a 3 percent pullback, its longest streak in history.