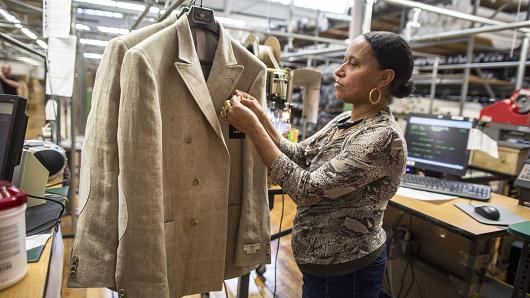 Scott Eisen | Bloomberg | Getty Images
An employee attaches a tag to a jacket at the Joseph Abboud Manufacturing facility in New Bedford, Massachusetts.
Despite the slowness, the Fed is expected to proceed with at least three rate hikes this year, with several prominent central bank watchers making room for the possibility of a fourth move. The Fed's pace is important in that it not only determines the interest rate for most consumer debt but also indicates how concerned officials are with the pace of growth.
If officials believe growth is getting out of hand, they're more likely to get aggressive with rate hikes and possibly choke off what is expected to be a strong year.
Fed officials have indicated they believe the weakness in inflation won't last, a sentiment that is gaining a growing list of adherents.
"The increase of average hourly earnings at a 2.5 percent on a year ago basis likely understates the true pace of wage and compensation growth due to a tight labor market," said Joe Brusuelas, chief U.S. economist at RSM.
"With the major narrative going forward is likely to be where firms will get the skilled workers necessary to boost productivity and meet demand it is likely that wages will accelerate in 2018," he added. "With wage gains in metro areas starting to pick up, and minimum and livable wages slated to rise starting in January we think that wages and overall compensation will accelerate in 2018 reaching 4 percent by the end of the year."
If that happens, it will represent the final piece of the puzzle both for economic growth and Fed policy.
The central bank is tasked both with maintaining an economy at full employment and price stability that officials believe equates to 2 percent inflation. A meaningful gain in wages would mean the recovery has come full circle and the Fed can continue to normalize policy after the highly accommodative measures during following the financial crisis.
"Look at where the jobs are being created. These are career-type jobs," JJ Kinahan, chief market strategist at TD Ameritrade, said of growth in manufacturing and construction that happened in December. "It's headed in the right direction."
WATCH: Jim Cramer talks about the impact from Friday's jobs report.