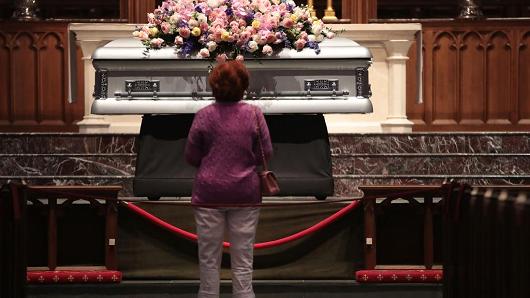 Scott Olson/Getty Images
isitation is held for former first lady Barbara Bush at St. Martin's Episcopal Church on April 20, 2018 in Houston, Texas. Bush, who died at her home in Houston on April 17, was the wife of former president George H. W. Bush and the mother of former president George W. Bush. Her funeral service will be Saturday April 21.
Several former U.S. presidents and hundreds of mourners are expected to gather at a Houston church on Saturday for the funeral of former first lady Barbara Bush, who died on Tuesday at the age of 92.
Bush, the wife of the 41st president of the United States, George H.W. Bush, and the mother of the 43rd, George W. Bush, will be remembered at a service at St. Martin's Episcopal Church, where she and her family have been members since the 1950s.
Among those planning to attend are former Presidents Barack Obama and Bill Clinton, current first lady Melania Trump, former Secretary of State Hillary Clinton and former first lady Michelle Obama. President Donald Trump is not expected in Houston.
Members of the public paid their respects on Friday, when Bush lay in repose at the church. Following Saturday's service, Bush will be buried on the grounds of the George H.W. Bush Library and Museum at Texas A&M University in College Station, next to her daughter, Robin, who died of leukemia at the age of 3.
Bush, who was married to her husband for 73 years, was known for her sharp tongue and fierce devotion to her family and enjoyed broad public popularity during her time in the White House.