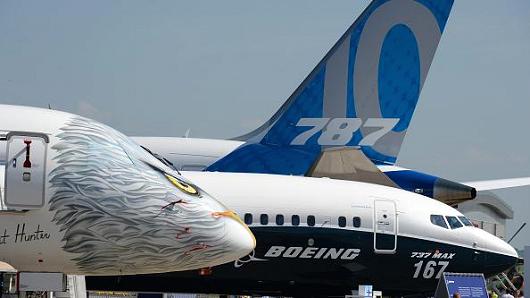 Getty Images | AFP | Eric Piermont
Embraer and Boeing jetliners stand on the Tarmac of Le Bourget on June 18, 2017 on the eve of the opening of the International Paris Air Show.
Despite reports government leaders in Brazil are opposed to signing off on a deal that would allow Boeing to buy jet maker Embraer, sources tell CNBC a deal is still possible.
In fact, those familiar with the situation say Boeing executives are in the midst of putting together a plan to address the concerns of Brazilian leaders while still allowing a potential deal to take place.
The issue: assuring Brazil's leadership of the sovereignty of Embraer's defense business.
Boeing and Embraer need Brazil's blessing before a sale can be completed. That's because the Brazilian government holds "golden shares" in Embraer giving it the right to veto strategic decisions at Embraer.
Boeing executives tell CNBC they have no comment on discussions with Embraer. In late December the aerospace giant and Embraer acknowledged they were in talks.
What's the next step in those negotiations? Sources tell CNBC that Boeing executives hope to meet with government officials in Brazil sometime in the next few weeks. While nothing has been scheduled, those close to the matter say Boeing is hopeful it can structure the deal to assuage the concerns Brazil has about Embraer's defense operations.
One possibility: structuring Embraer's military business to ensure the sovereignty concerns of Brazil. In the past, Boeing has set up military subsidiaries in Australia and the United Kingdom to meet specific concerns of those governments.
Neither Boeing nor Embraer are commenting on a potential price to complete a deal. On Friday, Dow Jones cited sources who say Boeing had informally agreed to pay $28 a share for Embraer, which would be a roughly 30 percent premium to the price of Embraer shares in mid-December.