Something strange is happening in the stock market as big stocks are reversing sharply lower after opening higher Tuesday.
Thirty stocks in the S&P 500 dropped more than 5 percent from their opening prices with many of the names concentrated in the industrial and technology sectors.
The industrial stocks' decline is likely due to a Caterpillar management comment about its profitability the rest of the year. The company said on a midday conference call that its first-quarter profit will be "the high-water mark for the year" due to higher investment spending.
Caterpillar shares fell by nearly 10 percent from their opening price.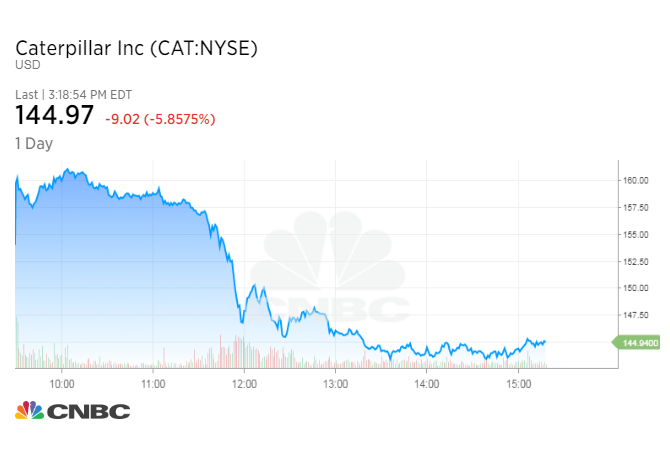 One Wall Street analyst pointed to the statement as the reason the company's shares went lower.
"Shares of CAT opened strong, but have been under considerable pressure since the call. The shares held steady through the middle part of the call until the company announced that: 1) 1Q would mark the high point for the year and 2) it would be more methodical in share repurchases over the course of the year instead of employing a more opportunistic approach," Stifel analyst Stanley Elliott wrote in a note to clients Tuesday.
Technology shares such as the FANG stocks also declined significantly, although there was no specific reason for the sector's move. Amazon and Netflix shares both dropped more than 5 percent from their opening prices.
One market veteran pointed to investor sentiment as a reason for the day's selling.
"Basically people are edgy and any sign of bad news – or any lack of good news – is enough to take profit," Randy Frederick, vice president of trading and derivatives at Charles Schwab, said in a phone interview. "When the market's very high, when volatility is high, and when you're this far into an expansion, people get uncomfortable."
— CNBC's Thomas Franck contributed to this story.