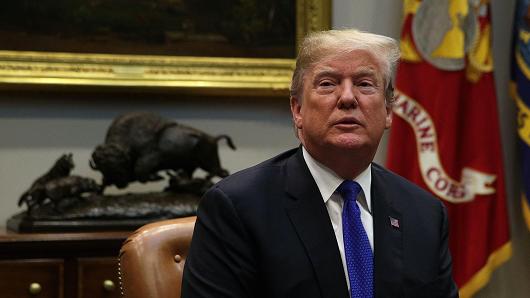 Alex Wong | Getty Images
U.S. President Donald Trump speaks during a meeting in the Roosevelt Room of the White House January 4, 2018 in Washington, DC.
President Donald Trump will undergo a formal health check on Friday as the former New York businessman attempts to dispel any doubts about his fitness for office, according to a report by The Telegraph.
Trump will be examined by the same doctor as his predecessor Barack Obama, the report said, with a summary of the results expected to be made public. The routine physical was first announced by the White House late last year.
The customary examination will reportedly last around two hours and is set to include blood and urine tests, heart checks and questions about his sleeping habits and sex life. Nonetheless, Trump has the power to hold back any details he wishes.
The formal medical check will be Trump's first since entering the White House and comes at a time of intense speculation about his mental and physical suitability for the presidency. Last week, a controversial book by journalist Michael Wolff alleged Trump would frequently fail to recognize old friends and often repeated stories "word for word." The U.S. president described the book as "fiction" and claimed he was a "very stable genius."
Read The Telegraph's full article here.