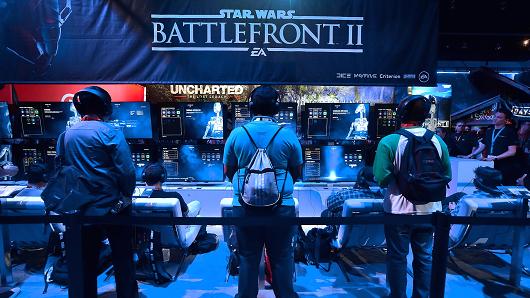 Frederic J. Brown | AFP | Getty Images
Gaming fans play 'Star Wars Battlefront II' from EA Sports at the Los Angeles Convention Center on day one of E3 2017, the three day Electronic Entertainment Expo, one of the biggest events in the gaming industry calendar, on June 13, 2017 in Los Angeles, California.
Electronic Arts shares should outperform in 2018 despite a recent public relations headache involving its latest "Star Wars" game, according to one Wall Street firm.
BMO Capital Markets upgraded EA's stock to outperform Monday, arguing that investors overreacted to gamer outcry over the company's attempts to monetize in-game content in its new "Star Wars Battlefront II" game.
"Consumer pushback to EA's Star Wars in-game monetization strategy has undermined some investor confidence and has driven the stock lower," wrote BMO analyst Gerrick Johnson. "After further consideration, we believe the reaction may have been overdone, providing a buying opportunity for what is, otherwise, a solid long-term story."
The gaming community inundated social media and Reddit in November with thousands of critical posts saying that EA was unfairly compelling consumers to spend more money through in-game transactions to unlock new characters and other content.
Following the fierce criticism, the video game company decided to temporarily suspend all in-game purchases, adding to investor worries that the game would not be as lucrative as projected.
Tweet
"While the cancellation of micro-transactions in Star Wars makes for an intriguing headline, the impact sounds much larger than it really is," Johnson said. "Over the longer term, EA is experiencing a tailwind that is benefitting the entire video game software industry: the transition of physical software sales to digital downloads, which offer higher margins and the opportunity for incremental add-on sales and multi-player online services."
The transition toward digital downloading cuts costs for video game manufacturers because it frees them from investing in thousands of discs and allows gamers to install content directly over the internet.
Shares of EA rose nearly 1 percent mid-afternoon Monday. They had climbed 42 percent climb during the past 12 months. Looking ahead into 2018, Johnson's $130 price target represents 16 percent upside from Friday's closing price.
The analyst also highlighted EA's esports strategy as an area of future growth,calling the company's positioning "the most compelling and sensible" of any under coverage. Centered on the company's sports titles like "Madden" and "FIFA," EA is focusing its esports strategy on competitive gaming between average players.
Unlike competitors like Activision Blizzard, EA is not building up a professional league but basing its structure at local levels, with winners progressing to regional and then national events, the analyst said.
"Those participating, and hopeful of monetary prizes, don't need to try out for established eSports teams. They can work their way up the ladder as walk-ons," wrote Johnson. "We think this grassroots approach is smart, especially given the portfolio of games EA has to work with (we don't think sports games transfer well to the professional league model). We believe this model will keep aspirational players engaged (and generating revenue) as they try to climb the ranks to become professionals."