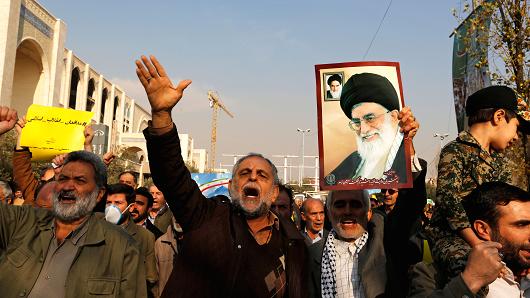 Atta Kenare | AFP | Getty Images
Pro-government demonstrators hold a poster of Iran's supreme leader Ayatollah Ali Khamenei during a march following the weekly Muslim Friday prayers in Tehran on January 5, 2018.
An Iranian reformist lawmaker said Tuesday that some 3,700 people were arrested in the days of protests and unrest that roiled Iran over the past two weeks, offering a far higher number than authorities previously released.
The protests, which vented anger at high unemployment and official corruption, were the largest seen in Iran since the disputed 2009 presidential election, and some demonstrators called for the overthrow of the government. At least 21 people have been killed in the unrest surrounding the protests.
The official news website of the Iranian parliament, icana.ir, quoted Mahmoud Sadeghi of Tehran as saying that different security and intelligence forces detained the protesters, making it difficult to know the exact number of detainees. He did not elaborate, nor did he say where he got the figure.
Previously, authorities have said "hundreds" were arrested in Tehran alone, not offering a total figure for arrests as the demonstrations spread into the Iranian countryside, including small towns.
Interior Minister Abdolreza Rahmani Fazli has said about 42,000 people at most took part in the anti-government protests. Sadeghi's figure of arrested offered Tuesday would mean nearly 10 percent of those who demonstrated were arrested.