It is a rough day for growth technology investors. So-called FANG stocks lost $88.4 billion in stock value Tuesday.
FANG stocks are a basket of high-growth technology stocks — Facebook, Amazon, Netflix and Alphabet (formerly known as Google) that have led the bull run of the last 9 years.
Facebook, Amazon, Netflix and Alphabet shares all fell during the market decline Tuesday, ranging from a 3.5 percent drop to a 5.1 percent drop.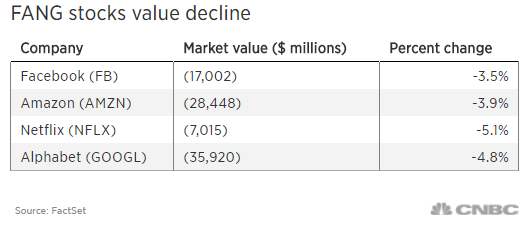 Alphabet was the biggest loser at about $36 billion in value lost as Wall Street analysts lowered profit margin projections for the company due to its cloud computing investment plans.
The total stock value lost from FANG stocks was $88.4 billion.
Even after the sharp drops Tuesday, two FANG stocks are up so far this year. Netflix is still up more than 55 percent year to date followed by Amazon's nearly 25 percent year-to-date gain.
Three of the four names including Apple are in correction territory from their 52-week highs, with Amazon as the one exception at slightly above the required 10 percent drop.