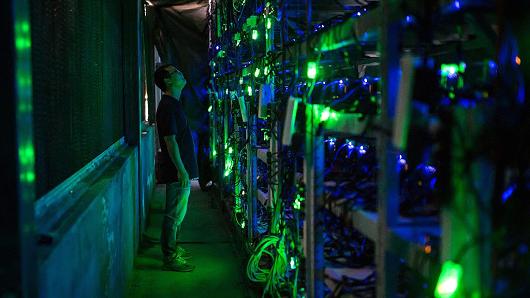 Paul Ratje | The Washington Post | Getty Images
A bitcoin mine near Kongyuxiang, Sichuan, China on August 12, 2016.
Police in the north China city of Tianjin confiscated 600 computers used to mine bitcoin cryptocurrency after the local power grid operator reported abnormal electricity usage, Xinhua reported Wednesday.
"Eight high-power fans were also seized," Xinhua said, quoting local police and added that it was the "largest power theft case in recent years."
The report didn't say when the police had seized the equipment.
China was home to the majority of cryptocurrency mining operations before Beijing last year began to discourage it as part of a larger crackdown on bitcoin and other cryptocurrencies. It is unclear how much of mining activity has moved offshore or been shut down.
Reuters reported in January that China's central bank told a top-level government internet finance group that the monetary authority can tell local governments to regulate the power usage of bitcoin miners to gradually reduce the scale of their production.
Miners use high-powered machines to generate the massive computing power to produce cryptocurrencies, which is done by solving mathematical equations.
The activity is also highly energy intensive, leading miners to seek locations with easy access to cheap electricity.
Five people are under investigation and another has been detained in the Tianjin case, Xinhua said.