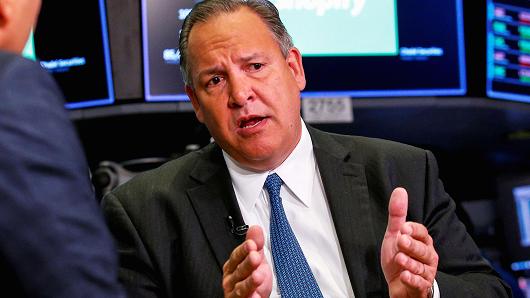 Brendan McDermid | Reuters
United Technologies Chairman and CEO Greg Hayes gives an interview to CNBC on the floor of the New York Stock Exchange, September 5, 2017.
United Technologies' quarterly profit topped analysts' estimate on Tuesday on higher demand for its spare parts and services from airlines, and the company raised its full-year earnings and revenue forecasts.
The maker of Otis Elevators, Pratt & Whitney aircraft engines and Carrier air conditioners, forecast 2018 adjusted earnings per share in a range of $6.95-7.15, up from $6.85-$7.10 previously.
The company said it now expects full-year sales of $63 billion to $64.5 billion, up from $62.5 billion to $64.0 billion.
United Tech is benefiting from strong demand for commercial air travel, and is speeding up production of its fuel-saving turbofan engines that power Airbus' newest narrow-body jet, A320neo, and Bombardier's CSeries aircraft.
The company's net income attributable to shareholders fell to $1.30 billion in the first quarter ended March 31 from $1.39 billion. The year-earlier period included a one-time gain of 25 cents per share.
On a per share basis, net income attributable to shareholders was $1.62 per share in the latest reported quarter. On an adjusted basis, the company earned $1.77 per share.
Net sales rose to $15.24 billion from $13.82 billion.
Analysts on average had expected earnings of $1.52 per share and revenue of $14.64 billion, according to Thomson Reuters I/B/E/S.