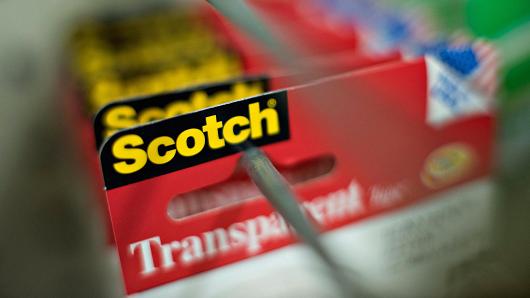 Daniel Acker | Bloomberg | Getty Images
3M's Scotch brand tape on display for sale at a supermarket in Princeton, Illinois.
Shares of multinational giant 3M dropped more than 7.8 percent Tuesday after the company lowered its 2018 earnings guidance.
The maker of thousands of products for consumers and businesses including Scotch tape and Post-It notes said it expects earnings per share for the year to range between $10.20 and $10.55. The company said previously it expected full-year earnings to range from $10.20 to $10.70.
The stock was by far the worst performer on the Dow Jones industrial average on Tuesday, and was on track to post its biggest decline since Oct. 15, 2008, when it fell 7.9 percent.
3M's stock had already fallen more than 8 percent for 2018 heading into Tuesday's session. As of 12:30 a.m. ET, 3M was down 15.5 percent year to date.
"A few markets were softer than we anticipated going into the year," CEO Inge Thulin said Tuesday during a call with analysts. However, the executive maintained that "going forward, we remain confident in our ability to keep generating premium value for our customers and premium return for our shareholders."
The company also posted earnings per share of $2.50, in line with a Thomson Reuters estimate. Its quarterly revenue came in just above forecast.