The yield on the benchmark 10-year Treasury note hit the key psychological level of 3 percent Tuesday for the first time since January 2014.
The yield on the two-year Treasury note also set a multiyear record Tuesday, topping 2.5 percent for the first time since September 2008.
The yield inched past 3 percent shortly after the open of stock trading on Tuesday before pulling back slightly.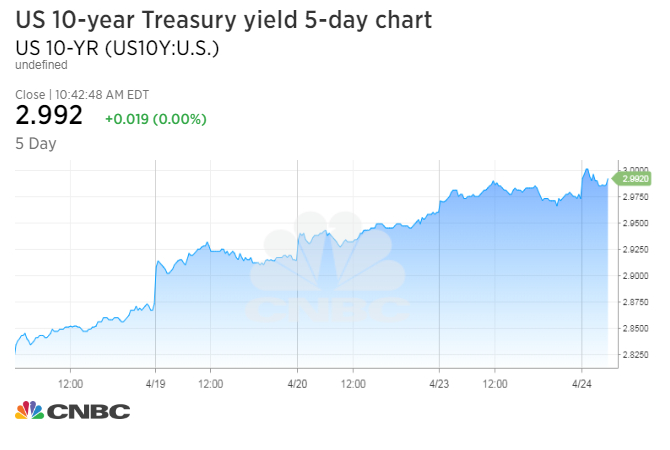 "It's certainly a psychological level for people," said Gary Pollack, head of fixed-income trading at Deutsche Bank Private Wealth Management. "We have a lot of supply this week, and that's certainly putting pressure on the market … the quarterly refundings have been settings records."
Pollack added that this week's Treasury auctions of two-year, five-year and seven-year notes are likely to set a record in terms of size. Increased supply weighs on bond prices and yields move inversely to those prices.
Global investors have been fixated on the 10-year note yield in recent days as it climbed upward, concerned that the 3 percent level could trigger a reaction from financial markets around the world.
The yield, a barometer for mortgage rates and other financial instruments, has jumped in April on signs of nascent inflation and as the Federal Reserve stood by its plan to gradually tighten monetary policy. A move in the yield above 2.9 percent in February triggered a correction for U.S. stocks.
Billionaire bond investor Jeffrey Gundlach told CNBC on Monday that if the 10-year yield does crack the 3 percent ceiling, traders may then get the confidence to bid rates even higher.
"I've been of the opinion that closing above 3 [percent] would lead to an acceleration to higher yields," said Gundlach.
The rise in rates throughout 2018 has become a divisive issue on Wall Street. Some see higher rates as a vote of confidence on the strength of the economy, with the government set to report on first-quarter GDP this Friday. The economy grew at a pace of around 3 percent annualized the previous two quarters.
However, others consider increased borrowing costs a threat to the bull market that began amid — and was fueled by — historically low rates and extraordinary Fed stimulus.
The central bank has started to unwind its massive balance sheet and gradually hike rates, a move traders have blamed for a sharp rise in short-term rates and a resulting flattening in the yield curve.
The Treasury Department auctioned $32 billion in two-year notes at a high yield of 2.498 percent on Tuesday. The bid-to-cover ratio, an indicator of demand, was 2.61. Indirect bidders, which include major central banks, were awarded 41.6 percent. Direct bidders, which includes domestic money managers, bought 15.3 percent. y.
Cheap corporate borrowing has allowed companies not only to borrow cash easily, but also buy back their own stock. Many of Wall Street's largest technology and internet companies — responsible for much of the historic run in equities — have taken advantage of the low rates. Netflix, renowned for its big spending and negative free cash flow, said it plans to raise $1.5 billion in the corporate bond market on Monday.