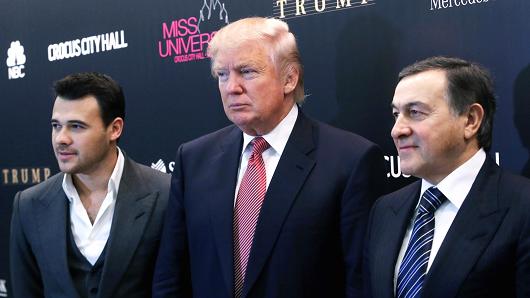 Vyacheslav Prokofyev | TASS | Getty Images
Crocus Group vice president Emin Agalarov, Miss Universe co-owner Donald Trump and Crocus Group president Aras Agalarov (L-R) hold a news conference on the Miss Universe 2013 Pageant, November 9, 2013 in Moscow.
New details about President Donald Trump's controversial visit to Moscow in 2013 appear to contradict the timeline he allegedly provided to former FBI Director James Comey, according to flight records obtained by Bloomberg.
The records show Trump arrived on a Bombardier jet to Moscow on Friday, Nov. 8, at 6:15 a.m. local time, and didn't depart the country until 3:58 a.m. Sunday, Bloomberg reported. According to the arrival and departure times listed in the flight records, Trump's total time spent in Moscow for the trip was nearly 46 hours.
But Trump allegedly told Comey that he had not even stayed overnight in Russia during the visit.
According to the former FBI director, the president on multiple occasions brought up a lurid accusation from a controversial dossier about him — that Trump had witnessed prostitutes urinating on a bed in a Moscow hotel in 2013. Comey wrote about the discussions with Trump in contemporaneous memos. Trump fired Comey in May 2017.
Trump, who was not running for president when he visited Russia in 2013, had flown to Moscow to attend the Miss Universe pageant, which was being hosted in the Russian capital that year.
Comey wrote that Trump "said he had spoken to people who had been on the Miss Universe trip with him and they had reminded him that he didn't stay over night in Russia for that."
"He said he arrived in the morning, did events, then showered and dressed for the pageant at the hotel … and left for the pageant. Afterwards he returned only to get his things because they departed for New York by plane that same night," Comey wrote.
On another occasion, Trump explained again to Comey why the allegation could not be true:
The president brought up the "golden showers thing" and said it really bothered him if his wife had any doubt about it. He then explained, as he did at our dinner, that he hadn't stayed overnight in Russia [at the time alleged in the dossier]. … The president said 'the hookers thing' is nonsense but that Putin had told him 'we have some of the most beautiful hookers in the world.'
Trump's November 2013 trip to Moscow has drawn intense scrutiny since it became associated with the claim from the dossier, which was compiled by British ex-spy Christopher Steele for intelligence gathering firm Fusion GPS and partially paid for by Democratic entities.
Neither the White House nor the Trump Organization immediately responded to CNBC's requests for comment.
Read the full report from Bloomberg.