Investors really love Eastman Kodak's makeover.
One day after the 130-year-old industrial company announced plans for its own cryptocurrency, shares are soaring 72 percent.
KodakCoin will roll out after an initial coin offering later this month, Kodak said on Tuesday. Blockchain, the technology underpinning popular digital currencies like bitcoin, is going to be used to build KodakOne, the company's new photo rights and royalties tracking product for digital photographers. KodakCoin will be the currency used on that platform.
Kodak shares jumped more than 60 percent on Wednesday and have now tripled since the announcement. The shares were around $3.13 before the announcement was put out and were last trading above $11.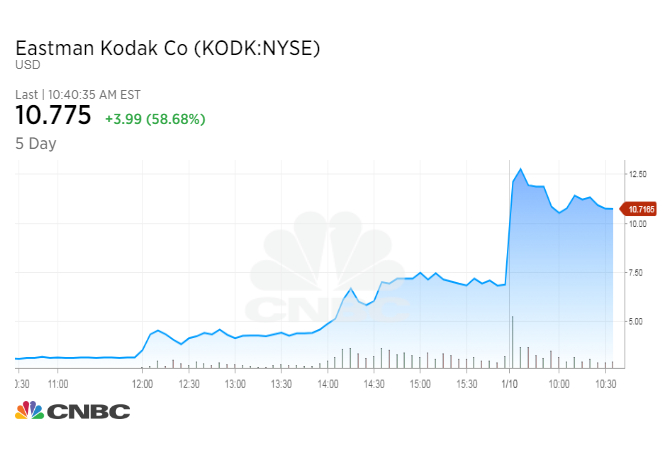 It is another step in the evolution of the faded American brand, once synonymous with film cartridges, paper and camera equipment. Kodak entered bankruptcy six years ago and emerged with a new focus on digital printing and packaging. But Kodak still struggled to regain momentum.
Like many old-line companies it has embraced cryptocurrencies and blockchain to remake its image, and time will tell whether that will stick.
Shares of Long Blockchain Corp. doubled after the beverage company changed its name from Long Island Iced Tea Corp. in December. The biotech equipment maker Bioptix got a similar boost when it changed its name to Riot Blockchain last year.