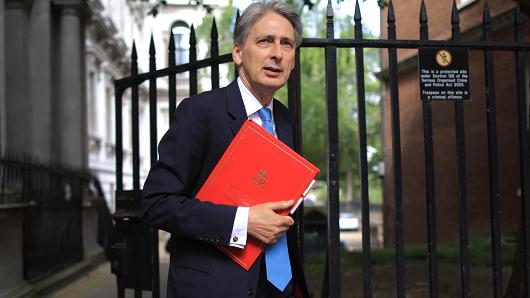 Christopher Furlong | Gety Images News | Getty Images
Philip Hammond, U.K. chancellor of the exchequer.
The U.K. budget deficit has shrunk to its smallest level in more than 10 years.
The shortfall between how much Prime Minister Theresa May's government spent and how much it earned from taxes in the last financial year has come in below £42.6 billion ($59.5 bn).
The Office for National Statistics (ONS) said the figure was 8 percent lower than the previous 12 months, at £45.2 billion, and the smallest difference since 2006/07. It also comfortably beat a £50 billion deficit target set in November by Finance Minister Philip Hammond.
Following the data release Tuesday, Hammond said in a statement that the result was down to the hard work of the British people.
"Our economy is at a turning point with debt starting to fall and people's wages rising, as we build an economy that truly works for everyone," he added.
Despite beating the official forecast of a £45.2 billion borrowing requirement, sterling was largely unmoved by the data.
On a day-to-day basis, which excludes capital spending, the British government posted its first current account surplus since 2001/2002.
Total U.K. public debt now stands at £1.798 trillion, about twice the level before the great financial crisis. That figure excludes public sector banks but does include for temporary Bank of England lending that was introduced to revive the country's economy.