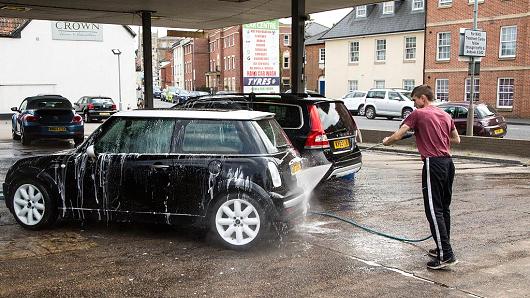 Geography Photos / Getty Images
While many car services in the UK legally employ workers such as this one, some could be exploiting modern day slaves
British lawmakers are to investigate hand car washes amid concerns that they are hubs for slavery and human trafficking.
The U.K.'s anti-slavery watchdog, the Independent Anti-Slavery Commissioner, said it is worried that "endemic exploitation" is rife at car wash services.
It is estimated that there are up to 20,000 hand car washes active in the U.K., operating in petrol stations, shopping malls and outside grocery stores.
The Global Slavery Index estimates that up to 45.8 million people live in slavery globally, while over 151 million children are victims of child labor. The British government estimated in 2014 that 13,000 potential victims of slavery lived in the country.
Lawmakers added concerns that chemicals and dirt removed from cars could be polluting water systems in the U.K.
"Oil, dirt and cleaning products are often not disposed of correctly, which could be having a significant impact on local water sources and wildlife," said Environmental Committee Chairman Mary Creagh.
"The Independent Anti-Slavery Commission has also expressed concerns around the exploitation of the workforce at hand car washes. We are concerned about the cost to the public purse of tackling criminality, including trafficking, tax evasion and enforcement of minimum wage law."