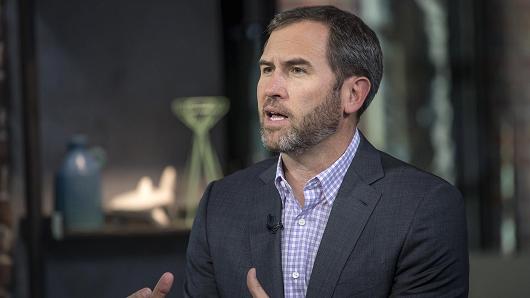 David Paul Morris | Bloomberg | Getty Images
Brad Garlinghouse, chief executive officer of Ripple Labs Inc.
Investors are buzzing over a report that speculated on the size of Seagate's early investments in cryptocurrency company Ripple and now Wall Street is weighing in.
"Seagate is up sharply this morning as investors react to Seagate's stake in Ripple Labs, creator and developer of the namesake cryptocurrency 'Ripple' (XRP)," RBC Capital analyst Amit Daryanani wrote in a note to clients Monday. "Based on management discussion, we understand STX has a 2-3% stake in the company, which it gained by participating in Series A and B rounds in 2015 and 2016."
The data storage company's stock rose as much as 16 percent shortly after the market open Monday before paring its gains to 7 percent.
The start-up owns 61 percent of the 100 billion XRP coins in existence, which are also referred to as ripple.
"We think any indirect cryptocurrency ownership should be discounted somewhat due to inherent volatility and liquidity concerns," Daryanani wrote.
In similar fashion, Susquehanna told its clients it estimated Seagate owned 2 to 4 percent of the Ripple company.
"STX's investment in Ripple Labs is intriguing, but we do not view this as a material upside driver given that it is an equity investment (not token ownership) and as such, is not a source of liquid cash," analyst Mehdi Hosseini wrote Monday.
Ripple cryptocurrency's market cap is more than $90 billion even after a drop on Monday, according CoinMarketCap. It is the third-largest digital currency in the world.
Seagate's investment in Ripple has been widely covered in previous years. It is listed as one of Ripple's investors on the company's website.
The size of that investment could not be verified by CNBC. Seagate and Ripple did not respond to requests for comment.
— CNBC's Michael Bloom contributed to this story.