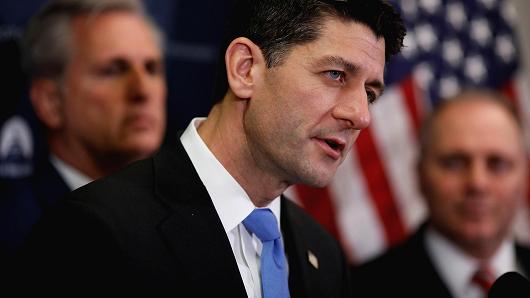 Aaron P. Bernstein | Reuters
Speaker of the House Paul Ryan, accompanied by Rep. Kevin McCarthy (R-CA), and Rep. Steve Scalise (R-LA), speaks at a news conference following a closed House Republican conference meeting on Capitol Hill in Washington, U.S., December 19, 2017.
House Speaker Paul Ryan said Tuesday he seeks a deal with Democrats on protecting hundreds of thousands of young immigrants, but wants to see a "good, balanced package" that boosts border security.
"We want to have a DACA compromise," Ryan said, referring to the Obama-era Deferred Action for Childhood Arrivals program. "We want to make sure the DACA problem is solved. … This has to be balanced so we don't have a DACA problem five, 10 years down the road."
Ryan added that he wants "the right kind of interior and border enforcement" included in an immigration bill. His comments came shortly before bipartisan lawmakers were to meet with President Donald Trump to try to strike a deal.
Trump has insisted on including funding to build his proposed wall on the U.S.-Mexico border in a deal, complicating the talks with Democrats, who do not want to use federal funds for the project. The Trump administration has estimated that the barrier would cost $18 billion over 10 years.
Making matters even messier is the administration's willingness to scale back funding for "proven security measures" such as surveillance, radars, patrol boats and customs agents in order to fund the wall, according to The New York Times.
Shielding those immigrants has emerged as a sticking point in negotiations to fund the government and avoid a shutdown by the Jan. 19 deadline.
In September, Trump ended the DACA program with a six-month delay to force congressional action to pass its protections into law. Hundreds of thousands of immigrants brought to the U.S. illegally as children could face deportation if lawmakers do not pass a law shielding them by March 5.
The DACA program not only protected the immigrants from deportation but also allowed them to work in the United States.